So what is best to pack in your hospital bag for an elective c-section? Today you will know exactly what you are going to need for the best recovery after your c-section.
Packing your hospital bag for an elective c-section or even when packing for a natural birth can feel daunting. Today we are going to cover some of the absolute essentials to have in your hospital bag.
Packing a hospital bag in NZ was a different experience than overseas articles had written about.
Make sure to grab our free packing list to help you make sure you have got it all! (it helped me sleep at night leading up to baby.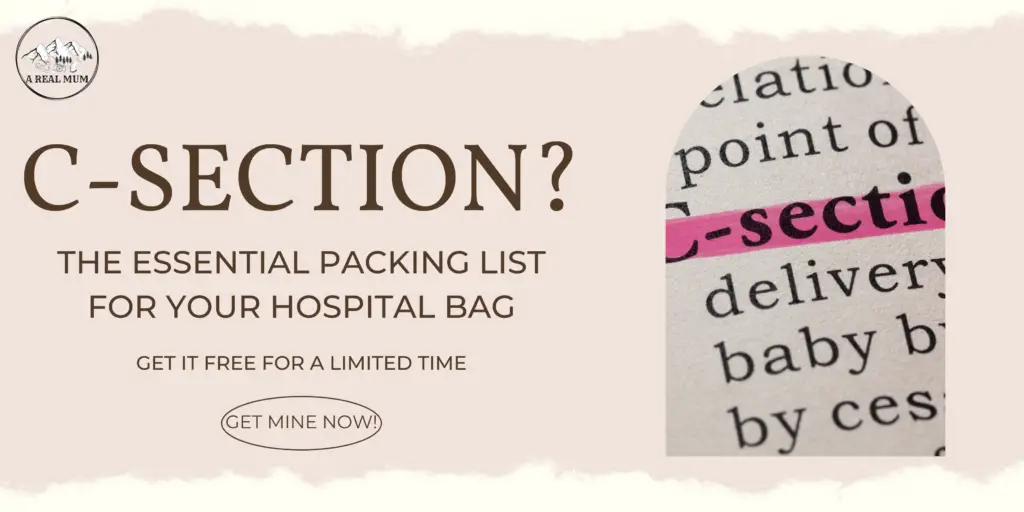 Why Is Being Organized For Your C-section So Important?
C-sections are major surgery, as well as you learn how to care for your new baby a lot is happening when this goes on in your life!
Having the perfectly packed hospital bag for an elective c-section is a great bit of organization that will make life so much easier!
Recovery Is Tough
There is no easy way to say it but recovering from a c-section isn't easy! It takes time and taking it easy whilst you are figuring out your new baby and recovering from major surgery is so important.
C-sections mean 6 weeks of healing time and at least 3-4 weeks until you will feel semi-normal. So a well-prepped plan will get you through the initial procedure and the days after.
Knowing recovery is tough will help you prepare well in advance for your c-section. One of the best things you can do is to have a well-organized hospital bag perfect for an elective c-section.
Learning How To Care For Your Newborn + Parenting
As said above recovery from a c-section can take a good 6 weeks to be able to complete semi-normal tasks again. So being aware that learning about your new baby and healing from your c-section is a big deal!
You have got this is the first thing and it is important to keep your mind focused on one foot in front of the other.
Little steps all add up. Making sure you pick people who are helpful and make you feel safe in the early days will be a big win toward figuring out your new baby whilst recovering from surgery.
C-section Vs Natural Birth
C-sections are different from a natural birth in a few different ways and this is why the things you pack within your hospital bag can differ and be more specialized.
A c-section is a major surgery and you are left with an incision in your front that can make life feel quite tricky for a few weeks if not longer.
Natural birth has its own set of challenges but doesn't come with an incision in the front that sits right where your underwear does.
Your c-section incision can be quite sore to begin with and getting on top of the pain is essential. Also finding clothes that will not irritate your incision is so important.
Since all of your front is opened you will be quite weak as it begins to heal so bear in mind that the first few weeks will see your mobility impaired especially when going from lying down to sitting and sitting to standing.
What Sort Of Bag Is Best
Now what sort of bag is best to pack your hospital gear in? A hospital bag for an elective C-section should have a few features:
Wheels (this means no carrying)
 Pockets help divide up different needs – before/after surgery
 Space for a normal pillow or feeding pillow can be very helpful
 Lightweight
 Pick one that has four wheels as this is easy to maneuver and again no pulling
It is important to have picked a bag that is going to be easy should you need to move it and easy if you for some reason need to get into it!
A lightweight suitcase that has four wheels, and compartments, and doesn't have any confusing zips will be perfect.
Other Prep You Can Do
There is plenty of things you can get done in preparation for your little one joining the family.
Things that are going to greatly increase how easy and stress-free your recovery can be! You will find that lots of friends and family may do these sorts of things for you too!
But doing a few wee things in preparation might just make you feel so much more organized, as well as help you sleep at night.
Cook meals and freeze them in easy portions
 Stock up on your favorite breakfasts, snacks, and coffees! Having a stash will never be a bad thing!
 Get your medical kit all prepared, and have a chat with your midwife about what you might need in the way of over-the-counter pain meds and anything else they recommend
 I made a 'learning and healing bucket' to put next to my bed, the idea was it had lots of easy access things while I was learning to be a mum and healing from my c-section
Things you could put in your own 'learning and healing bucket':
A baby thermometer (helps curb worries in the early days)
 Chocolate
 Nail clippers
 Hand cream or something that smells nice!
 A spare drink bottle
 A wheat bag or heat pack
 Nasal aspirator (always handy)
Other Posts You May Like:
My Favorite Things Were…
The reality is everyone's favorite things are going to be different, but you will always benefit from hearing other people's favorites cause they might just be your favorite too!
My Going Home Dress
I tell you what I was soooo glad that I chose a comfy stretchy long dress to go home in. Even though I am not a dress person, going over my incision and wearing it on my first car ride since surgery was a perfect choice.
I was comfy and I chose my Intimo dress as it is made of modal a soft stretchy fabric that keeps you as comfortable as you could be.
It is a favorite and something I wear quite often. By picking some I already was comfortable wearing, I was happy and not worried. That is something to consider too.
After the surgery isn't the time for new outfits or wardrobe malfunctions, just remember that.
My Favorite Snacks
Cheds… the cracker! Still my favorite food in the whole world.
You won't believe just how comforting it is to have a type of food that you love on hand, for me I enjoyed them so much more.
Pick something that you know your love normally, and you will ultra super love it when going through childbirth and recovery!
You won't feel like eating a whole lot after your surgery but with time you will feel like it and having foods you love can help.
Feeding Bras/Singlets
Something I wore the whole time I was recovering in hospital. A comfy non-wire feeding singlet is essential.
In the early stages of getting used to your new baby, you will find yourself with your breasts out a lot. Newborns feed all the time so being able to make your life easier is really helpful.
Feeding bras have quick-release clips or buttons that make getting ready to feed your new bub so easy, especially after a c-section.
There are also specially designed feeding clothes' that can help you feel a little more covered up when family comes to visit (if that's what you want).
Slide On Shoes
Slide-on shoes after a c-section are genius, for both showering and going home in. You are going to feel very protective and want to take it gently on your incision.
Bending down to tie shoes or even put shoes on won't be on your immediate bucket list in the days following your surgery and baby arriving into the world.
Pick slide-on shoes that are easy to go home in and sometimes sandals are a great choice for wearing in the shower although I didn't.
A Great Water Bottle…
You need a whole lot of water to produce good milk, as a breastfeeding mum you need to drink around 16 cups of water a day!
Check out this website for more information on nursing nutrition…
Having a really good water bottle is essential, you may find yourself feeling dry in the hospital too so drinking lots can make you feel a lot better and less groggy.
In my hospital bag for my c-section this was an essential, and the bottle I have now I wish I had when I had my c-section. My bottle is a 2L and has little milestones on it that if I don't feel motivated I find super helpful!
*insert bottle picture*
Baby Book Or Journal
This is a personal choice but I just literally went to take photos of my birth record and smiling from the happiness I recorded everything. If you read my first c-section record it talks about how birth is magical and I am so glad I had somewhere to record everything…
I made my 'spread' when I was leading up to being induced at 8 am the next morning and I am so glad I prepared it early as it meant I could fill it out while I was recovering.
I use a Happy Planner and Love it but you could make a record in a notebook, scrapbook, or even on some pieces of paper!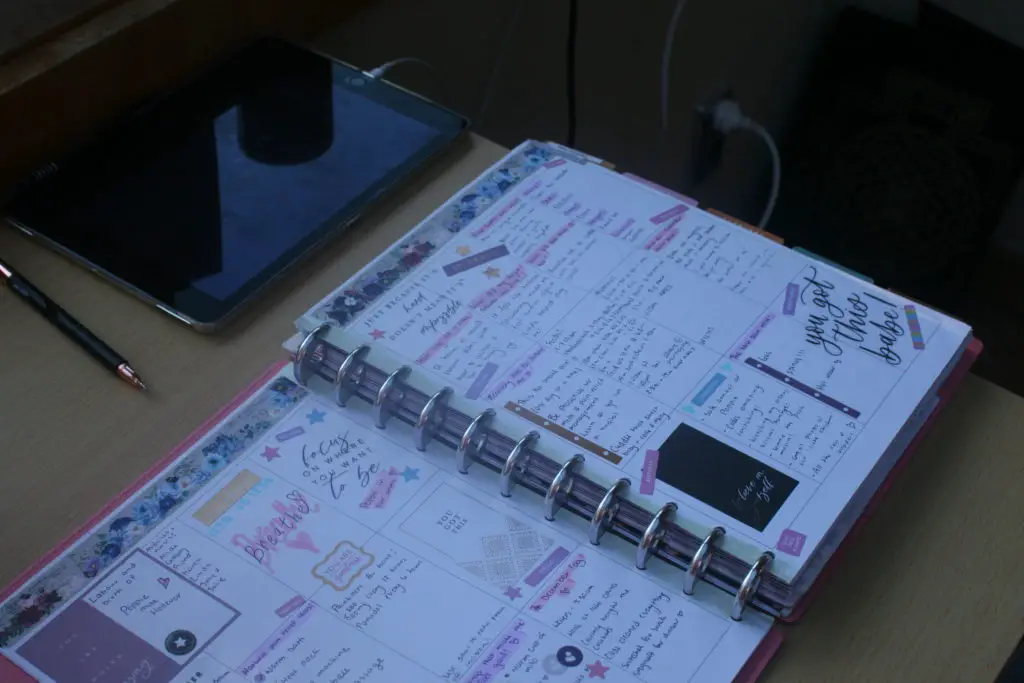 Must Haves:
So what should I pack in my hospital bag for an elective C-section… There are so many things that can make your experience better and then there are the absolute essentials…
Comfortable Undies
This one is so important, especially with having a c-section! Your incision will sit a wee bit above and very likely exactly where or just below your general bikini line.
This is something you need to consider when planning your undies to go home in and the ones that you may wear at the hospital.
Choosing large high coverage undies can be a great option and depending on what you prefer either a loser or firmer undies.
I preferred firmer fitting undies as it felt like they were supporting my incision. It is a personal choice and could be best to bring/try both!
Good Maternity Pads
The hospital will provide you with maternity pads for your lochia/postpartum bleeding. Sometimes though bringing your favorites is a good idea.
We all have preferences; wings vs no wings, long vs short, thick vs thin, U by Kotex vs Libra.
The point is we all have our favorites, so stocking up on your favorite brands or types of pads is a good idea.
Generally, your preferences aren't going to change, and grabbing your faves can be a good comfort during your postpartum experience.
Nursing Pads
Nursing pads are a must, after having a c-section you may be required to stay in a little longer to ensure you are all healthy and ready to tackle the new world of parenthood.
This means there is every chance your milk will have come in whilst you are in hospital.
Learning to manage engorgement, leaking milk, how your letdown works, and all that jazz whilst also learning to breastfeed is super overwhelming.
Nursing pads will make you that little bit more comfortable.
Breastfeeding Supplements
Breastfeeding supplements were awesome after my c-section! I had both a spray, tea, and cookies.
My milk supply is amazing still 5 months in, it can be a case of some do and some don't but I believe in the early days that my supplements helped.
Plus the tea increased my fluid intake and the cookies were delicious so! What is not to love?
Toiletries And Any Medications
It is super essential to make sure you pack any toiletries you can't live without or any medications you need!
Having major surgery means staying a few nights is necessary so make sure you have your favorite smelling shampoo and conditioner.
Medications you have to take are very important and making sure anything you know you need is with you is super important, always plan to have a few more days worth of medication than you need.
Other Posts You May Like
Breastfeeding Pillow
A breastfeeding pillow is a super great piece of equipment after a c-section for two main reasons!
Number one is it will protect your incision and help avoid pain when you learning to breastfeed!
Breastfeeding is hard enough to learn to do when you add a sore incision in there it can make life quite tricky.
By using a breastfeeding pillow you protect your incision and support your body in learning this new skill.
Whilst breastfeeding you are holding a decent weight and if not supported this can cause some aches and pains further down the road.
Scuffs For The Shower
Some people choose to take scuffs in the shower. Personally after having a C-section and being desperate for a shower.
The last thing I cared about was wearing shoes in the shower I just couldn't wait to feel the hot water run down my back!
Scuffs can be a good option if you have sensitive feet or are a bit wobbly. Each to their own!
Birth Plan And Any Paperwork You May Need
Make sure you have your birth plan and any paperwork you may need!
There is a bit of paperwork to come as well after your baby is born but the biggest thing is to make sure to have your birth plan with you.
A birth plan can look like whatever you want it to. The main purpose of it is to have your wishes listed on it, that way when your laboring you won't have to be saying, NO EPIDURAL, between contractions!
The biggest thing is to have anything you may need for your birth experience.
Dresses And Comfortable Clothes
Picking comfy loose clothes is a must after having a c-section, your incision will be sensitive.
Pick clothes like the following:
Dresses
 High waisted undies
 Maternity tights (have a higher covering area)
 Feeding tops
 PJs
A Long Charger Cord
This is one tip I read everywhere and didn't take with me that I wish I had!
When you're not very mobile in the first week you definitely won't be wanting to get in and out of bed to grab your phone.
Some of us are lucky enough to have someone to grab it for us but they might need to head away for a shower or a sleep!
In this case, having a long cord means you can pop your phone on your table beside you and there is no stress about grabbing it if anyone calls or you need something the nurses can't get you!
PJs
Like we said before PJs are a must! Comfy, homely, and loose.
Your PJs will feel like a godsend when you get home but also while you are in the hospital!
Picking good clothes really will change your hospital experience as loose clothes keep you warm and help you feel just that little bit more normal!
For Baby
Grab our hospital bag list to see more about what your baby might need while they are in the hospital!
Hospitals are at a steady temperature so you won't have to dress your baby in an awful lot, but a going-home outfit and swaddles come in super handy.
Your Pillow
Your pillow has so many benefits!
Use it to support you when feeding
 Smells like home
 It is just the way you like it
 An extra pillow to prop you up and keep you comfy in the early days…
There are so many reasons to take your pillow and it really can help in the early days to have something of your own and something versatile.
So get your fave pillow in your back and pick a bright pillowcase so you don't get mixed up with hospital pillows…
Grab our free packing list! You can print it or scribble on it on your phone…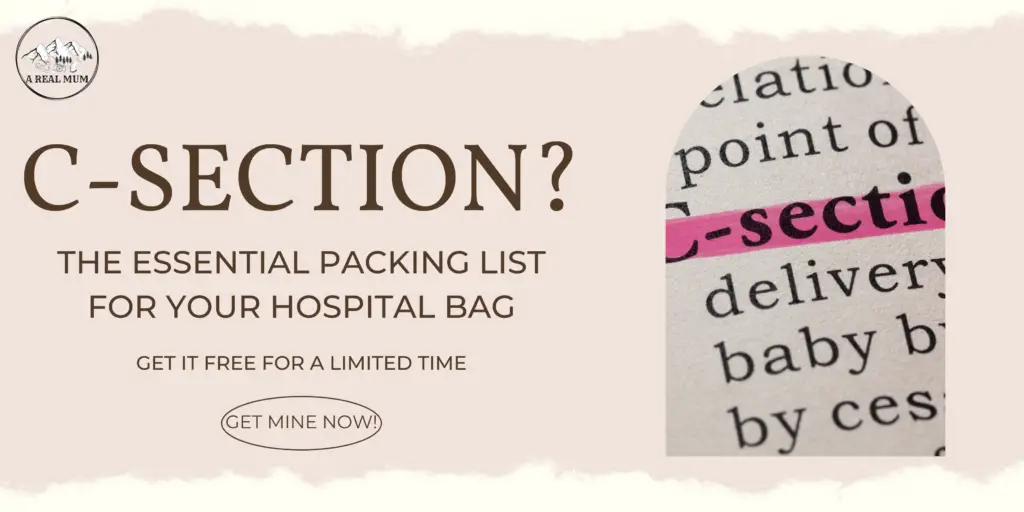 Things The Hospital May Supply
There are some things your hospital may supply, below were my favourites!
Mesh Undies
Mesh undies are great after a c-section, they are light and comfy and hold your pad great.
If they are ruined it also means you don't have to throw out your favourite undies.
Hospitals generally supply you with a few pairs of these during your stay.
Pads
Hospitals will have maternity pads, but again you won't know what type.
By bringing your brand or type you make sure you have a pad that is comfortable for you!
Baby Clothing And Swaddles
Generally, the hospital will have wee baby hats and a few blankets for swaddling, etc.
By having your stuff you may feel more prepared rest assured that your baby will have things to use if for some reason you aren't prepared.
Your Hospital Bag For Elective C-section Is Now Ready…
You now have all the tools you are going to need for your C-section experience. There may be a lot of feelings in the days leading up to your c-section.
Take this time to focus on resting, trying to sleep as much as possible, and doing any last-minute things that may be playing on your mind.
If you enjoy cooking some last-minute meal prep that you can freeze won't hurt at all. In the end, doing things that make you feel normal will help leading up to when you finally use your hospital bag for your elective c-section.