Welcome to a mums guide to the happy planner!
This post is a total guide book to everything you need to know about The Happy Planner. It contains everything you need to start on your own planning journey!
Some of the links within this post may be affiliate links so I make a small commission at no cost to you! Happy Shopping!
I am super excited for this post! Although I swear I am so excited for all my posts currently. So your here because you need the best possible planner to help you get some control and enjoyment back into your busy mum or busy anyone life? Well your at the perfect place!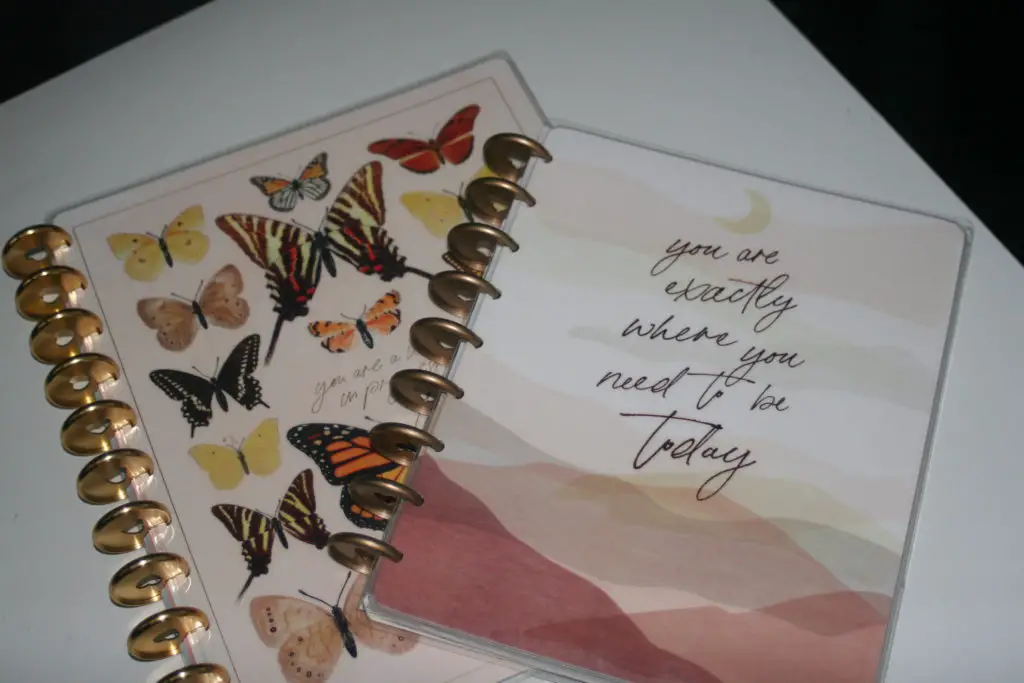 I have been using my specific planner for 3 years now and although I have tried others in that time nothing compares to the enjoyment and productivity I get out of using my planner, which I am now working out of 2!
Have you ever tried a planner at the start of the year and you have been sort of excited till your realize you really don't like the 'guts' of the planner even though it is the only cover you loved!
Surely it'll be fine though! Then you start the planner and it lasts all of 11 days and it goes into a cupboard… yep me to!
The benefits of planning…
Planning is a fantastic way to manage mental health, track habits, journal and take back some control especially if life has been feeling a little out of control for you!
Without a doubt you need a Happy Planner! A disc-bound, completely customizable planner, this means you can choose exactly what is going to work for you.
If it doesn't you can always buy a different extension pack without having to purchase a whole new planner! You can take out things you don't want and add things you do!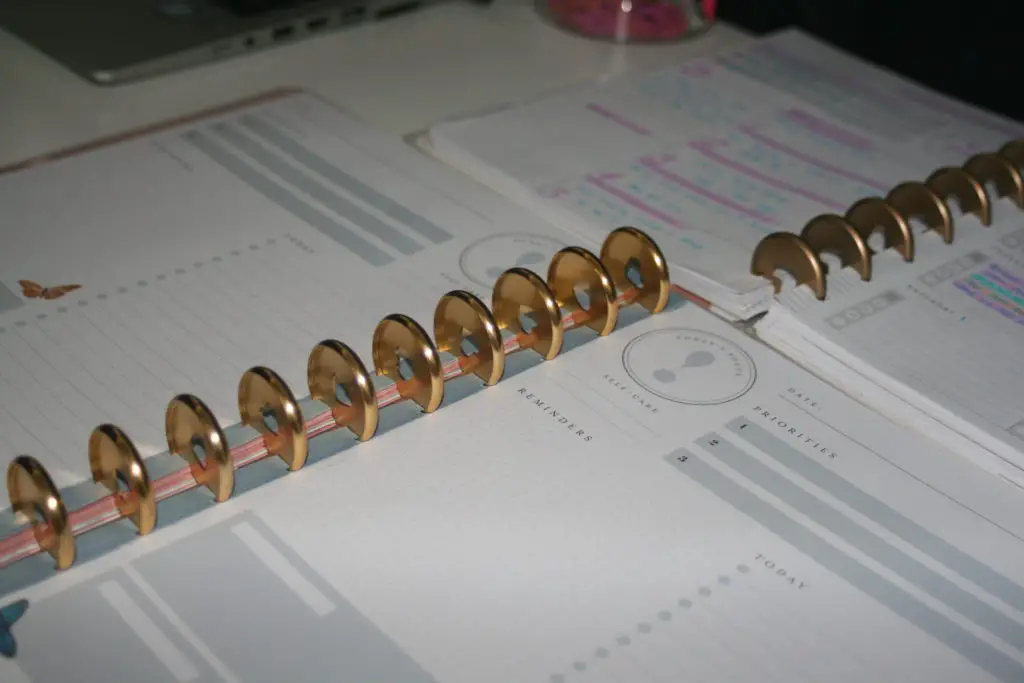 So what the heck is a disc bound system? It can be a completely new idea for some people! Instead of a spiral bound system, it works the same but instead of permanently ripping a page out you can pop it out… then pop it in!
As well as you can add anything you might possibly need into your planner easily. It is a total god send! You would be surprised how useful it actually is to be able to get shopping lists or daily pages, meal planning pages or fitness pages and pop it straight into your planner!
Planner Layouts!
So a planner layout what is it?
It is the way your daily organization pages are set out. Everyone usually find one that works best for them!
There are three main happy planner layouts but there are a bunch of others too!
The ones I think we HAVE to talk about are as follows!
They can be useful for different elements of your life or in a catch all planner! (One to manage all the elements of your life)
Dashboard Layout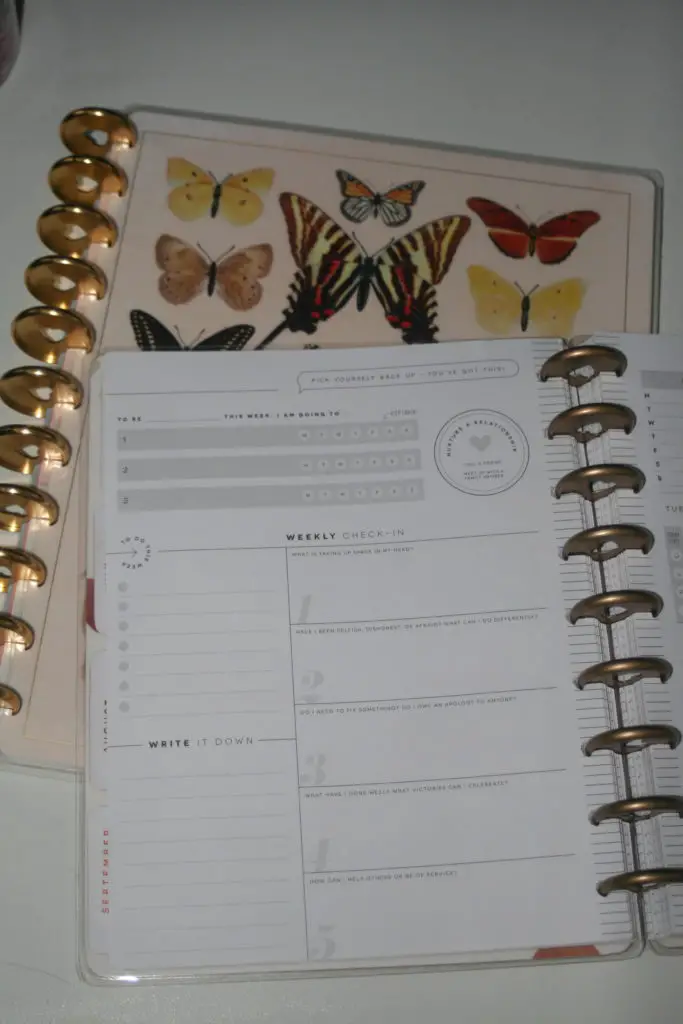 My second favorite layout! This is what layout I have in one of my current planners… I am a forgetful person who has always got my eggs in too many baskets.
Having the ability to write in important to do's for either the week or into the monthly spread means I don't lose track of all the things I am consistently trying to stay on top of! What better way!
I am currently lucky enough to have the recovery dashboard which has been great for tracking my busy schedule but also allowing me to stay on top of checking in with myself!
Horizontal Layout
The horizontal layout is one I haven't personally tried. Looking at it I think I would love to get my hands on one of these as a journal!
It would be a great way to stay accountable, looking for the satisfaction of a full week of journaling!
As well as horizontal leaves plenty of space for you to divide up or for you to write lots in!
There are some great YouTube videos on decoration for horizontal spreads!
This one is super popular within the happy planner squad members and with a whole lot of Happy Planner content creators in general! It is great for people who especially love creative planning and love stickers! It gives you the opportunity to split your day into three sections, or to have a journaling section and maybe a to do list and a meal plan! It can be absolutely anything you want it to be! I am pretty sure this is why most of the big planners are so into it as it is so versatile!
This is my favorite layout without a doubt! I work out of both the dashboard layout so I don't forget anything important, then on the daily I will plan out my day and write in anything into the checklist that needs to be completed that day! With a space for priorities and also a reminder for doing something for you this daily layout keeps me focused and on top! It also has adequate space for note taking and task specific boxes if that is what you choose to use it for!
This is a wonderful layout to be on offer! A completely streamlined budget planner allows you to keep all your financial notes, gift cards, left over cash and any other budgeting related bits and bobs all in one place! Having a focused place to keep your money tracking in can be a great way to get some financial clarity and really kick some goals! Plus who wouldn't be motivated to budget in a gorgeous budget planner!?
The color block layout is an awesome organization option for those of you who love categories to make your day seem easier to manage! You can do it based on time or do it based on different sections! You might have "8am-10am" as category one and "10am-12pm" as the next and so on! Or you might have "Work" then "Personal" and maybe "Housework". There is so many options this could also work well for students! There are plenty of great options to help plan the way that makes tasks the easiest for you!
Teacher and Student layouts
This is another great super organized layout! Designed with teachers (or students) in mind…With 7 boxes per day keep a track of all your different subjects, it also means you won't miss a due date and you have the ability to place things super smartly with 6 lines per category! This layout isn't just for students and teachers plenty of people use it and just cover up any teacher aimed sayings because it provides such a valuable layout with so many options for categorizing, time blocking etc.
Stress management and faith layouts:
This is a great layout when your looking to work on a certain element and may just not be sure where to start! These keep you on track as well as having clear spaces for what in general you may be working on! But as usual the are super customizable so utilizing these as an everyday planner is totally possible to! It id about finding your groove with planning and what helps make you productive.
This is one I am not personally familiar with but it is one on my to buy list! This to me would be a fantastic social media planner or again for a really niche part of your life to stay on top of it! There is some great videos and articles out there that show you more into what people use the monthly layout for!
Planner sizes:
There is 3 main planner sizes they are based around how many discs they have! The big planner runs on 11 discs they measure in at 8.5″ x 11″ , the classic is on 9 discs and measures 7″ x 9.25″, and the mini is on 7 discs and measures 4.625″ x7″.
The best size for you is totally dependent on your needs and wants!
Do you have a large to do list everyday?
Do you plan on using stickers, washi tapes and markers to decorate?
What is the main purpose of the planner?
Is it a social media planner, so super niche and a small planner will contain everything you need?
Is it a business planner so needs plenty of space for note taking and busy tasks that need done?
These are all questions to consider when deciding on size…
Creative vs functional planning:
This is an interesting topic! What type of planner you are has no affect on how much use you can get out of planning in general! Whatever makes you productive is what you should be doing!
Creative planning is generally thought to be when you create decorative spreads that are full of stickers, washi tapes, colors and that isn't just the end of it! People who love decorative find that the decoration helps motivate them to work in their planners!
Functional planning tends to be more minimalistic, more pen to paper! Happy Planner has a range of journals that are already full of little bits and pieces that mean there is little need for decorating when maybe your style is more minimalistic!
I think I fit in somewhere in between the two and that is totally cool! I tend to be minimalistic my pages are FULL of writing, to do lists, notes, things to remember etc.
But I love to highlight and categorize everything I do so I know at an overview what my priorities for the day are.
I am starting to get more into stickers and would like to have a try at creative planning as I feel I'd really enjoy it for some mindfulness time!
Mental health benefits:
There is so many benefits of planning and journaling I could go on all day!
Planning allows you to get things down on paper, putting things down on paper allows you to remove them from your head and can actually help encourage better sleep!
As well as less anxiety knowing that everything serious you need to get done is written down in your planner… it gives you peace of mind knowing that, you can't forget cause it is written down in clear letters!
Part of getting things down on paper is committing to doing it as well! Writing things down can help with memory, focus and a range of other positives!
Journaling especially has benefits for visual tracking and becoming aware of ones self! It allows actionable plans to be put in place to better yourself and to allow yourself to grow!
Finally journaling and planning allows a little bit of 'me time', its a great way to sit and be with your thoughts and find a healthy way forwards within yourself.
The basics of a planner:
Cover-
Currently pages-
Monthly-
Dividers-
My fave planning pens:
Good planning pens are essential, I am a plain ball point feen… but I love the Pilot Frixion pens because I am a quick thinker and trying to keep up with everything means I make lots of mistakes so being able to rub out what I get wrong is a total god send for me! I could not live without them now!
So… are you going to try planning? Do you plan already? What is your go to so you remember anything comment below! Or let me know at any of my social medias!