We are bringing you a super exciting review today! The best activity center for babies in 2023…
Okay so this baby item has been on our to buy list for quite a while. So to say we got it is a super proud moment, we are going to get many hours of enjoyment from it undoubtedly.
What are things you love as a new parent…
Some time alone…
Being able to cook dinner?
Going to the bathroom by yourself…
Maybe a chance to watch that new episode of your show…
It doesn't happen a lot… am I right?
Well this is the solution!
This was on my wish list before my daughter was even born! There are so many options out there and I was dead set on this one for so many reasons I am going to share today!
I couldn't be more excited to share this with you and let you know why you NEED this in your life…
When I first saw this activity center, credit to Whitney Duncan the singer! The first thing I though was "aw we can check our emails together…".
Pffffttt, pregnancy hormones got me pretty good then. I quickly hunted it down and started looking more into it. Within no time I was hooked and knew it was the perfect activity center for my girl.
There was so many features, song, touch, learning, talking, and it would take her from 3 months old till she was four or five years old!
Why you ask?
Well I am going to tell you all reasons why you NEED this for your young kids!
Features Of This Activity Center For Babies…
A little overview…
Spinning seat
Easy wash seat
Mirror as computer screen
Rattles shapes as coffee mug, plant, and pin and paperclip holder
A printer with fabric printing
A mouse with clicking
A spinning tape dispenser
A tissue box with crinkling tissues
A graph that swings around
A phone with a changeable photo
Earplugs that make sounds
The plant is also rubbery similar to a teething toy
The seat!
The seat is as innovative as it gets, its easy to attach, easy to remove. It has a super thick cushy quality, and is adjustable by clips underneath the seat.
Meaning as your baby grows the seat will adjust to! This is great as it really makes it suitable for babies of any size for as long as possible!
The seat has great back support with a raise part at the back which ensures the best protection of your bubs shoulders, neck, and head while using it!
Check out our post on Baby Shower Gift Ideas for every mum!
Sounds And Learning
The buttons on the computer, which by the way has a mirror as a screen! I haven't met a baby yet who doesn't love a mirror!
Anyway back to what I was saying, the buttons teach things like A, B, C – Circle, Triangle, Square – 1, 2, 3!
They start off by playing music and saying these things, they also have options for talking it says the most adorable things, which eventually is going to get your kids telling stories!
"*keyboard clicks* as per my last email we need to pencil in some playtime!"
It is so sweet, it is great to as it has 3 "smart stages". 1 is a lot of music and learning colors and shapes, 2 has music and smaller phrases and then 3 has the really cute sayings to encourage story telling and stringing sentences together.
This activity center for babies really has ti all, as well as growing with your baby right through from 3 months old to 4-5 when they play with the table which brings me to my next point.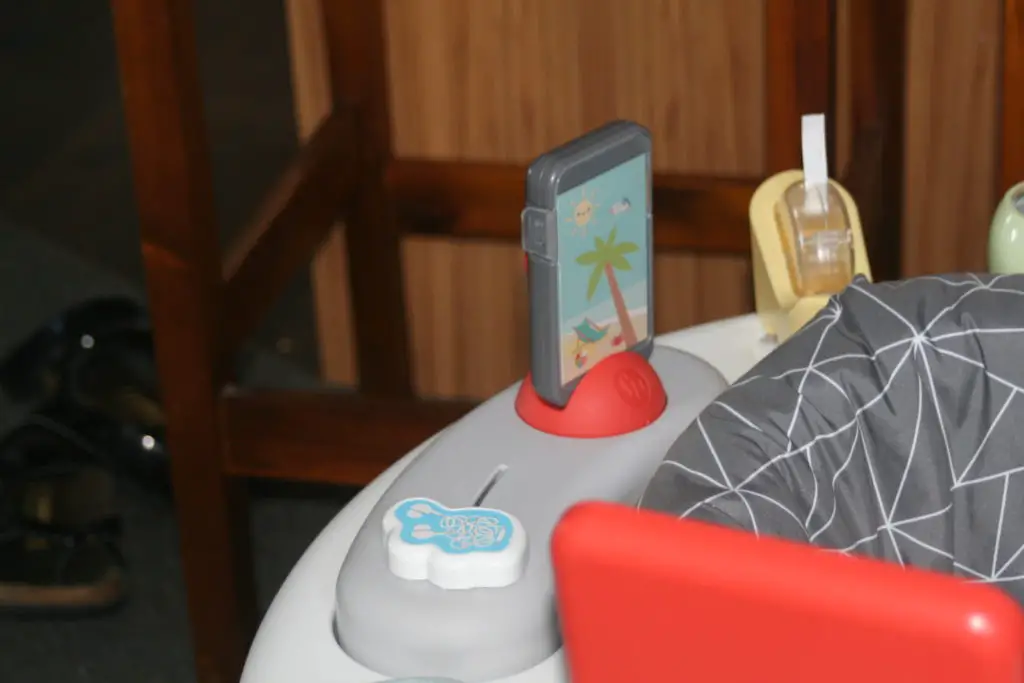 Bead table…
Once your babies walking they can't go in it anymore? I hear your concerns, but Fisher Price have thought of it all…
Once your not so baby anymore baby is up and walking around the center turn into a bead table to
The Fisher-Price Like a Boss Activity Center is a great way to keep toddlers entertained and engaged in play. It really allows for growth of your babies during there most important years.
It has a variety of activities, such as a bead bar, a spinning wheel, a shape sorter, and more. The activity center can easily be converted into a table with a bead bar for toddlers. This allows for a fun and interactive way for toddlers to play and explore with the beads.
The activity center also has a variety of colors and shapes to help toddlers learn and explore. With the Like a Boss Activity Center, toddlers can have fun while learning and developing their motor skills.
The bead bar really adds an element of longevity and I can't stress enough how useful that feature is in an activity center for babies.
Don't forget to grab our First Trimester must have guide!
Rattles And Shape Sorter
This activity center for babies, also has 3 rattles and they are different shapes!
Shape sorters are wonderful as your baby grows, learning to put the shapes into the sorter it is a great way for your baby to learn the shapes!
Triangles, squares, and circles can slot into their little spaces, as well as one of the buttons that teaches them the names of it too!
The shape sorting area also doubles as rattles for sensory learning. It is a great encourager for babies to play with when they are making noises.
This is another example of why you need this activity center.
This activity center really teaches all with going from discover, explore, and encourage!
Shape sorters are a great way to help babies learn and develop. They provide an exciting and engaging way for babies to explore shapes, colors, and sizes.
Through the process of sorting shapes, babies can practice problem-solving skills and hand-eye coordination.
Additionally, shape sorters can help babies learn basic counting skills, as they learn how to sort and count the shapes. As babies become more familiar with the shapes, they can even begin to recognize them by name.
Shape sorters are an excellent way to encourage learning and development in babies, and can provide hours of fun and exploration.
Learning is such a crazy experience as your baby will change so quickly from the moment you meet them…
Other Features:
The printer with fabric printing is great, it pulls out and slides back in which allows the babies to learn how to remove and put things back.
There is a cute little mouse with a spinning clicker that makes sound!
There is also a tape dispenser which spins around and makes sounds, it is great for encouraging young play.
My favorite feature is the tissue box which has crinkly fabric and our three month old already loves and is figuring out how to play with.
There is also a gorgeous little graph that swings around with bright colors and pictures and number, there is a picture and colors on the second page as well. There is cute crayons in a wee cup.
There is a gorgeous little phone with a changeable back screen! You can pop a family photo in there or an incoming call.
There is also a set of earplugs that move along and make clicking sounds.
This table has so many amazing learning options for your young ones!
Why it is a must?
This activity center for babies is a total must if you need some down time mumma!
This little table will provide so many hours of not only entertainment, but learning and the opportunity for you to maybe go to the toilet by yourself!
You could even have it in the bathroom while you showered there is so many options for amusing your wee babe!
There is one million reasons to buy this activity center for babies!
It is totally gorgeous with its cute wee saying and endless benefits…
So what are you doing… get it now! Get some peace and quiet…. get some reprieve and let your babies learn at the same time!
Let me know when you get yours how much you love it in the comments below!
Activity centers are great for babies because they provide a safe, stimulating environment to explore and learn.
Activity centers often feature a variety of toys, such as mirrors, shapes, and spinning objects, that help babies develop their motor skills and hand-eye coordination.
They can also help babies learn to recognize colors and shapes, and develop their cognitive skills. Activity centers also provide a great opportunity for social interaction, as babies can observe other babies playing and learn from them.
Finally, activity centers are a great way for parents to bond with their babies, as they can play together and create lasting memories.
As you bond with your baby and watch them learn and grow… what is not to love… there is so many reasons you need this activity center for babies in your life.