4 weeks post c-section… what is it really like? Baby is here and that means it is time for "the last 6 weeks of pregnancy" to be "the first 6 weeks post partum"!
My labour was induced and went for 12 hours, bubs got stuck so I ended up with an emergency Cesarean.
Definitely I felt a lot more nervous about adapting to have a new baby and healing from surgery!
4 Weeks post c-section – The actual c-section experience…
With Poppie getting bigger every time I look at her, my c-section experience feels farther and farther away!
I still found that I really enjoyed it which I still find so weird, although I know so many people whop have had them and none of them had bad things to say!
I grew up with a mum that had 3 c-sections so they were also a normal talked about experience for me.
I am still so proud of my birth, proud of my body, and of course proud of how I handled it.
Motherhood is definitely a new thing and takes time to adjust to the whole process of 'Matressence' can be beautiful if you look at it that way.
In times where the aftermath of the experience has felt overwhelming my daughter has kept me focused.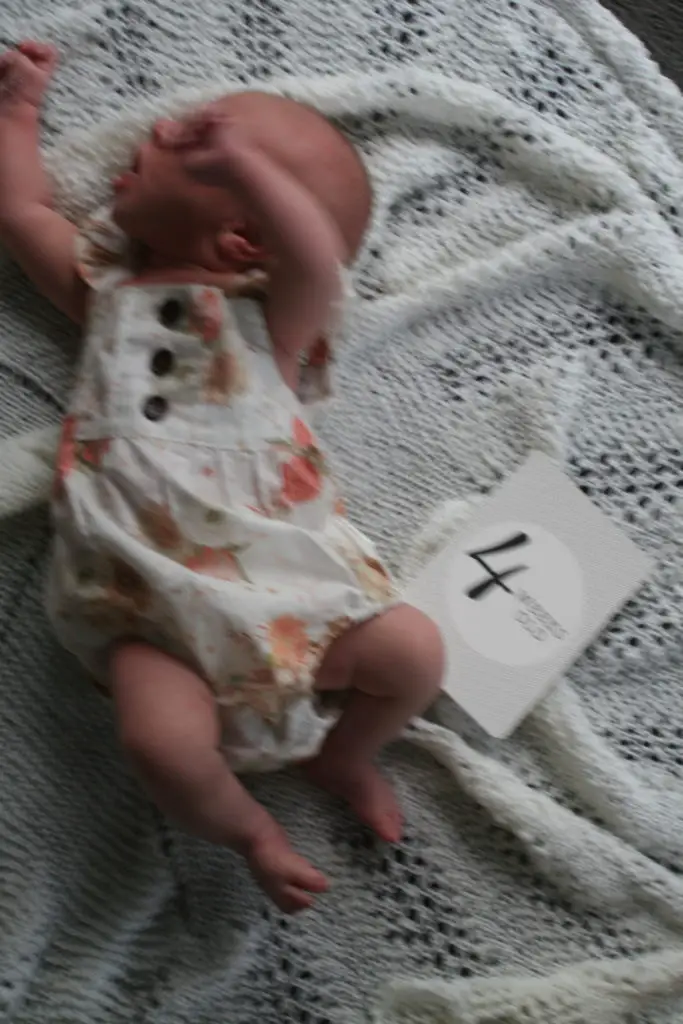 Pain:
I have had almost no pain!
I've only notices pain in the last week after overdoing it… so it is a balance of what I can do and what I should do depending on the affects for later.
I have had a couple of Panadol through the week but just as needed to help buffer it.
It is really important to take those painkillers as you need and to take it easy along side that.
Don't use your pain killers as an excuse to do more lol, trust me I learnt this the hard way.
Once it is sore let it come right then managing it better in the future is the only option.
I am sure there is going to be some continued tenderness in the next few months but overall I am feeling really great, being able to sneeze stress free is wonderful.
4 Week post c-section scar:
SCAR/WOUND WARNING BELOW
Scar is looking amazing!
I can't believe how fine it is at the ends, unbelievable actually.
All the stitches have now dissolved and it is sealed up beautifully.
I barely notice it now. It is numb around the area which is quite a cool feeling, that is from the nerves being cut and I have no idea if that will return and when.
One side of the scar before the numb patch has been quite itchy! It is an odd sensation.
Redness or swelling around the scar/wound
Excessive puss or pain
Any openings of the wound or bleeding
A fever of above 38*c
Any concerns don't hesitate to contact health professional!
This week I can sneeze/cough and laugh with no pain!

Mobility:
My mobility is great, I have been for a drive, been for walks.
I can sit up in bed while holding her easily and am even hanging washing and doing vacuuming easily.
Honestly recovery from here on out just sees more and more improvement everyday.
It is a great feeling when you manage your recovery well, but no matter how you get there remember your recovery is a win!
4 Weeks Post C-section Bleeding:
4 Weeks post c-section has made me feel almost normal again! Almost no bleeding now just some coloured discharge on and off. This is a great feeling and really cements how I am feeling and recovering overall, I can manage without any pads or liners now to which is a great feeling!
Other notes:!
Unfortunately this week I ended up with Mastitis. That was pretty rough, with flu symptoms and fevers I was a bit of mess. From the antibiotics to treat it I got thrush in my breasts and holy moly I was just a mess!
I am now medicated and under control.
Always remember when you have your midwife utilize them for advice first! I would have saved myself unneeded suffering if I had rung her first!
Your LMC is your advocate…
Any symptoms like the following, get checked:
Shooting pains in your breasts
Changes in the appearance of your nipples
Dramatic changes in milk supply
Any sort of pain when feeding
Fevery
Flu like symptoms
Other posts you may like: